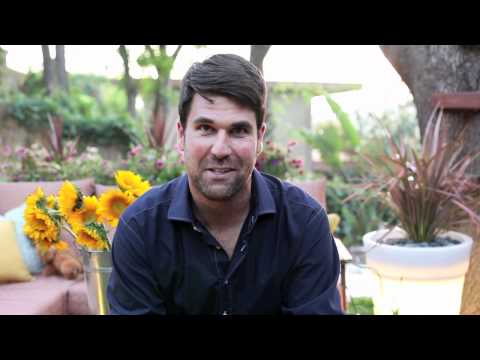 When I was seven-years-old growing up in Fort Lauderdale while other kids were shooting b.b. guns and catching bass, I'd play architect and create the illusion of my own house right smack in the middle of my backyard…from a cardboard appliance box. At the time, I thought my crayon-drawn windows were pretty high-end and that my use of mulch as floor covering was ahead of its time. Anyone who said they weren't risked getting Smurf'd. I have no idea what the hell it means to get Smurf'd, but it was fun to write. It wasn't until this year at age 36 that I yanked this memory — my first try at exterior design — from the back of my brain. The recollection was brought on by a trip to my friend Danny's house in the Los Feliz neighborhood of Los Angeles.
After a quick visit between myself, Danny and our TV producer friend Amanda (all three of us had just completed production as producers of a home design reality-competition series), I was introduced to Danny's legendary backyard. Packed with gorgeous greenery and a to-die-for view, I found the current lounging setup completely dysfunctional, not to mention a slap in the face to all the amazing features which the stellar property had to offer — features blocked by an above ground pool (and when I say pool, I mean eyesore). A huge open space right smack at the end of the yard next to the kids' playspace wasn't being utilized, like, at all. Instead, Danny, his family, and guests such as Amanda and I sat perched in plastic chairs only to stare at the lush, open space and the swing set 12 feet behind it. Three minutes later, as Danny and Amanda enjoyed adult refreshments over 4-letter words, the decorator in me started to snap scouting photos. A few weeks after this get-together, my team and I reinvented the previously unused space at the edge of the yard as a cozy, warm and cuddly family room. Not much was different from my first stab at exterior design back in 1984, except for the fact that this time, I recycled the cardboard boxes instead of inhabiting them.
Prior to my visit, the back left-hand corner of the yard was completely unused. With the kids playing roughly 12 feet away, and a gorgeous view of the Hollywood Hills (albeit one that was obstructed by a Smurfy above ground pool) in the distance, it seemed like the perfect spot for a snuggly outdoor family room.
In its new state, the back corner of Danny's yard is a colorful, warm and snuggly family room. Thanks to a sectional sofa and a potting bench used as a sofa table, the blue abomination that is the above ground pool remains hidden from view, instead allowing the gorgeous view of the Hollywood Hills and the golden California sun to take center stage.
Apparently, I did something right because this happy family is not only giving their new outdoor family room its fair share of use, they've even left every single prop outside exactly where I placed it. From the floor cushions to the strawberry pots and pillows, this comfy area in the yard is truly utilized as an outdoor room. What about rain? Well, it's Los Angeles: Rain is kinda-sorta on vacation approximately 350 days out of the year.
To block the blue above ground pool, I wanted to add some form of a sofa table behind the sectional. Since we're outside, there's not a whole lot of options for sofa tables — unless you make them from scratch or like watching them disintegrate from the elements. Instead, I gave the space double duty by using the Cedar Creek Cedar Wood Raised Planter Box up against the back of the sectional. This not only keeps the blue offender from sight, it also offers Danny's wife Stacy the perfect space to pot plants while also engaging with the couple's children, son Mino and daughter Zoe. PS – When it comes to planting for people who don't like to plant, here's a tip: Pick up pre-planted hanging baskets from your local home improvement store, take them out of the plastic baskets, then plant them directly into your beds. This saves a ton of time and a ton of money.
For years, I have been in love with strawberry pots, yet stupidly referring to them as "Glazed Southwestern pocket pots". Where the hell did I come up with the name? No clue. Anyhow, they're ideal for sneaking controlled jolts of color into a space to help pull an overall color scheme together. These Round Ceramic Coral Bell 6-Pocket Strawberry Jars come in several different colors, and they seem to work well with just about any design style.
The Cabos Collection Wood Sectional Set offers seating for up to 9. My team and I decided to use it for Danny's outdoor family room mostly for its modular appeal. Depending on how a space is used, the layout of the sofa can be reconfigured, allowing an area to constantly grow along with its homeowners. The cinnamon-toned upholstery works well with pretty much all earth tones as well as poppy colors such as grass green and golden yellow. Currently, the pieces are configured into an 8-seater, L-shaped sofa which is flanked a pair of armless club chairs.
In addition to the actual seating components, the Cabos Collection comes with an outdoor coffee table which is perfect for offering space above to serve snacks and storage below for keeping board games within arm's reach. Or, if Kathie Lee and Hoda were sitting here, it would house a case of wine and a bucket of ice.
In the event that Danny and family need extra seating for guests, they're now equipped with Sunbrella floor cushions which coordinate smashingly with the sectional's cinnamon upholstery. Floor cushions are an excellent option for families with pets who don't wanna be left out of the comfort mix. Since I am an animal spoiler, my dogs each have their own canine-sized sofas. Yeah, I know: I am totally showboating right now. Oh well.
As the California sun fades, Danny and his family (including wife Stacy, son Mino, and daughter Zoe) enjoy ambient light thanks to the Carola Resin Soft Glow Illuminated Planter. It simply plugs into a nearby exterior outlet and keeps everything softly lit. When it comes to planting choices, my team and I opted for grasses which will add a little height to the area, and we also brought in more texture with a layer of river rock which conceals the soil.
– Brian Patrick Flynn, HGTV designer/producer; Decor Demon