Blogger Haeley Giambalvo took some outdoor furnishings and, with clever multi-uses and placement, created a colorful space for a smaller outdoor area. See how easy it is to do the same …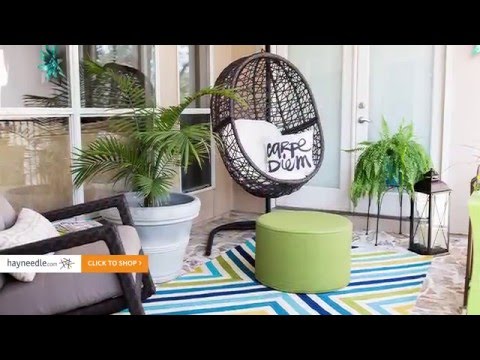 Haeley's patio prior to her hayneedle.com colorful update:
And the patio now: Hello, happy! 
Shop all of Haeley's picks on her Styleboard.
It doesn't require much space to create your own outdoor haven – just a comfy place to sit, a surface to rest a cold drink, and a flower-filled pot or two. Sometimes the smallest space can offer the coziest of nooks!
If you have a small patio or balcony, a couple of key pieces can make a big impact. Here are 7 easy tips for maximizing your space:
If you have room for only a chair or two, go for an extra special piece like this amazing hanging egg chair. Not only is it a gorgeous focal point, it also adds a big dose of fun! I could spend an entire afternoon curled up in there, and my young daughters get  just as much of a kick out of sitting in it as I do.
A small space instantly takes on the feel of another room in your home with the addition of a rug. A bright indoor/outdoor rug is an affordable way to bring an element of comfort outdoors.
Planters are often an overlooked opportunity to add more color to your space. They can add spring color to your patio even before your plants have started blooming.
Look for pieces that can do double-duty. An outdoor serving cart fits the bill perfectly. Not only can it hold food and drinks for casual patio entertaining, it can serve as a plant stand for potted flowers or herbs in between. The wheels make it easy to roll anywhere you need.
Even if you already have your main furniture pieces in place, accents can make the space extra special. An outdoor ottoman provides a place to rest your feet, but can also hold a tray with drinks or provide additional seating if needed.

A garden stool in place of a standard side table can add personality and space-saving flexibility by being easily moved around the patio.
Art isn't just for indoors. Adding a little decoration like metal wall art to your outdoor space further creates the feel of an indoor room.
Small on space doesn't have to mean small on style! I hope you enjoy dreaming up some simple, stylish updates to create your own cozy outdoor nook.
– Haeley Giambalvo, Design Improvised 
Photos by Candice Stringham, Handmade Mood